Hardwood Flooring Maintenance Tips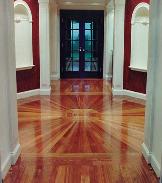 Using these maintenance tips from the pros at Diene's Floors, you will care for your hardwood floors and extend their life.
1.Dust mop or sweep your floor regularly. If you do sweep, we recommend nylon brooms, as straw brooms tend to be too rough on some floor finishes.
2.Immediately wipe up spills and moisture on the surface.
3.If the wood surface is urethane-protected, damp mopping can be done by hand or with a sponge-type applicator and a mild cleaning solution such as a diluted white vinegar-water solution (a cup of white vinegar to a gallon of water).
4.Never use oil soaps or water base liquid waxes or cleaners on any wood floor.
5.Make sure your tables and chairs have soft Felt Floor Protector Pads on the bottom of their legs to help prevent scratches. The felt pads must be kept free of grit, and will periodically need to be replaced. We carry several types of protector pads.
6.Use exterior walk-off mats and an area rug just inside your doors to help keep grit off of your floors.
7.Place area rugs in high traffic areas, especially in front of your kitchen sink, stove and refrigerator.
8.Keep your pet's nails clipped.
9.When moving heavy furniture, always pick up the furniture rather than sliding it across the floors.
10.Do not roll or slide appliances across your floor. We recommend the Florguard Floor Protection System.
11.Both men's and women's shoes should be properly maintained. Heels with an unprotected tip will cause damage to your hardwood floors.
12.Even with proper maintenance, a recoating may be all that is needed to restore a floor's finish. This should be done once the floor surface shows signs of wear. Don't wait until the finish is worn to the bare wood. If you are in doubt, consult Dienes Floor Sanding & Refinishing.

Back To Services


Schedule your Free On-Site Consultation today!


Call 216-328-1057
Serving: Cuyahoga County ~ Lake County ~ Geauga County ~ Medina County ~ Lorain County ~ Summit County


Return from Hardwood Flooring Maintenance Tips page to the Home Page