Types of Hardwoods
Our Products
Dienes Wood Floor Sanding & Refinishing sell premium quality hardwoods in two different ways, unfinished and prefinished. Before you buy wood floors, we'll work with you to determine your individual needs, and help you choose the best wood flooring solution the will last for the life of your home.
Unfinished Solid Wood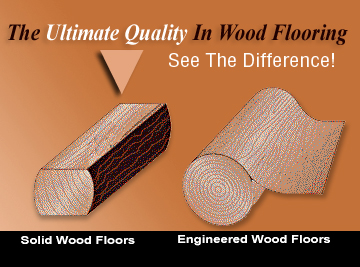 Unfinished solid wood is the oldest and most popular type of hardwood floor installation. A totally-natural product, the variety and density of the wood provides an infinite variety of patterns and colors that can be sealed or stained to match a variety of color and brightness choices.
There is a look to solid lumber floors that veneers and man-made products lack. Each board has its own grain pattern…different from every other hardwood in existence. Under any light source, solid floors have richness and a deep natural beauty that adds to the comfort of living.
Prefinished
Prefinished wood floors have become popular in recent years as another available option for builders and homeowners. By bonding wood and veneer together, this style of wood product is versatile enough for glue-down installation or float-in installation at or below grade. These floors are perfect for add-on projects, expansions, and areas like basements that have cement foundations or are more susceptible to moisture.
Hardwood
The term hardwood designates wood from broad-leaved (mostly deciduous, but not necessarily, in the case of tropical trees) or angiosperm trees. Hardwood contrasts with softwood, which comes from conifer trees. On average, hardwood is of higher density and hardness than softwood, but there is considerable variation in actual wood hardness in both groups, with a large amount of overlap; some hardwoods (e.g. balsa) are softer than most softwoods. Hardwoods have broad leaves and enclosed nuts or seeds such as acorns. They often grow in subtropical regions like Africa and also in Europe and other regions such as Asia. The dominant feature separating hardwoods from softwoods is the presence of pores, or vessels. Hardwoods are employed in a large range of applications including (but not limited to): construction, furniture, flooring, utensils, etc.
Styles of Wood Flooring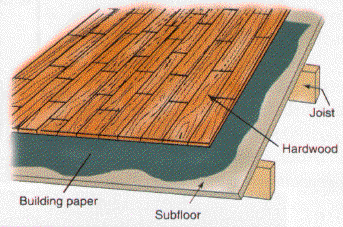 1. Strip Flooring: Most wood floors in the Cleveland Area are strip flooring. Most of this strip flooring is either 5/16" thick by 2" wide, face nailed material, or 3/4" thick by 2 1/4" wide, tongue and groove material. Strip flooring allows more design possibilities than the two other wood flooring styles, plank and parquet. Strip flooring in most cases will appear more elegant and formal than plank and parquet.
2. Plank Flooring: Any wood flooring material 3" wide or more is termed "plank flooring." Plank flooring is available in both square edge and bevel edge (V groove). Standard white and red oak material in 5/16" thickness is readily available in up to 8" width. In 3/4" thickness the width (in Oak), goes up to 7". Plank flooring is available in a multitude of species, and usually radiates an informal, casual, atmosphere.
3. Parquet Flooring: Historically, parquet flooring, installed in royal palaces, opulent churches, and the like, occupied the top rung in the flooring styles hierarchy. Today, many museums and other large scale public buildings feature parquet floors similar to those found in the European castles. This type of parquet flooring is typically comprised of 24" or larger squares. There are many parquet designs, handed down thorough the ages of evolving European craftsmanship. This type of parquet, when applied to residential dwellings, would be appropriate to consider for large living / entertaining areas. A well designed and space appropriate parquet flooring can turn a living area's flooring surface into a stunning evocation of old world elegance and charm.
A more modern version of parquet flooring which is similar in its design to its grand predecessor can be found in many residential homes. In contrast, this variety is typically made of smaller 12" X 12" tiles that are 5/16" thick, usually prefinished, and installed in a glue down fashion. This flooring type is relatively inexpensive, and is therefore frequently used as a low cost solution for wood flooring. Although a fair number of people still prefer this look, it is by and large out of style.
4. Herringbone is an elegant, upscale flooring style, most often found in museums and high end homes. This effect is generated by installing flooring pieces of equal length, usually between 9 to 24 inches, at a 90 degree angle respectively, with the ends cut at 90 degrees. A chevron pattern is basically the same but with a 45 degree cut corner where the boards meet at a square angle.
Wood Species:

White and Red Oak are still the most popular choice by far, due no doubt to their relatively low cost, serviceability, and elegant good looks. However, these days, more than ever before, an immense variety of other wood species is available as flooring materials, most of them available in 2 or 3 grades, (which vary from clear to rustic).
Grades:
Grades describe the appearance of the wood. All wood grades are as serviceable. Grades were developed to bring a degree of consistency to wood floors appearance specifications regardless of where they were milled. Grades (for the most part), are assigned by the appropriate authority, notably the NOFMA, (National Oak Flooring Manufacturers Association, and the MFMA, (Maple Flooring Manufacturers Association). Softwoods and lumber are graded differently. Engineered flooring, and other products are also graded differently. Most engineered flooring are graded by the manufacturer in image conscious terminology, i.e. "Cabin Grade", "Tavern Grade" to designate a rustic, knotty look.
Oak Grades:
1. Clear: Mostly heartwood with a minimal amount of character marks and discoloration. Average board length 3'6".
2. Select: Wood is still very clean. (This is by far the most commonly used grade). Average board length 3'.
3. No. 1 Common: Contains prominent variations in coloration. Includes knot holes, worm holes, mineral streaks, checks, splits, etc. Average board length 2'6".
4. No. 2 Common: More imperfections than no. 1 common Average board length 2'.
5. 1' 3" Shorts: Pieces 9" to 18" composed of all grades.
Cuts:
1. Plain sawn: Most lumber is plain sawn, resulting in a varied grain pattern.
2. Quarter/rift sawn: Generates more waste off the log, and is therefore more expensive. The grain pattern is all vertical (parallel lines), resulting in a more uniform look. This cut makes for a more dimensionally stable floor


Schedule your Free On-Site Consultation today!


Call 216-328-1057
Serving: Cuyahoga County ~ Lake County ~ Geauga County ~ Medina County ~ Lorain County ~ Summit County


Return from Types of Hardwoods page to our Home Page